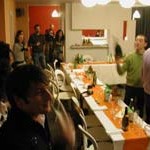 One end of the year but with an unusual style for you!
We are in Umbria in the Renewable Energy Park, in the quiet green hills a few miles from Amelia about an hour from Rome.
You will have the opportunity to discover a new, unique in Italy, made entirely with energy saving where they were applied all the solutions for environmental compatibility.
A fantastic buffet Km Zero for the New Year with entertainment.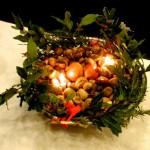 Cooking at zero kilometers is about finding new palette of flavors, we have forgotten or have never tasted.
Why come to the PeR?
The main purpose is to help save the world. It is so obvious that we take for granted.
For each location to something different: there are those who are passionate about the various technological solutions, who prefers to walk in the hills of Umbria, there are some who takes the kids to see animals, go on horseback or by bike.
Just as in nature we like biodiversity and abhor the monoculture, even among human cultures we like to accommodate and bring together dissimilar people who have different motivations for coming to the PeR.
Come for two nights and three days, dinner Friday and Saturday dinner to 220 Euro per person all inclusive.
If you decide to stay a day longer than you'll pay only 60 euro per person with half board. If you are 3 years old do not pay and between  3 and 12 years you spend half price.
For information call us at 0744-988050 or go to the website: www.per.umbria.it