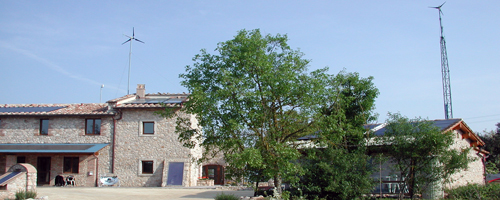 Our main aim is to contribute to saving the planet: it's so obvious we take it for granted.
PeR was also created for three other reasons:
The three whys of PeR
The first motivation is personal: the founders Alessandro and Chiara, after reading hundreds (maybe thousands) of books on renewable energy and sustainable agriculture, felt ready to put their knowledge into action.  They fell in love with this location and found competent friends with the same vision, and then made the biggest decision of their lives.
The second motivation is cultural: the region is enchanting; it has been inhabited for three thousand years.  It is a melting pot of cultures and coexistence, but communication among people, especially among males, too often reduces to the "three Cs", as they say in Italian, "calcio, carte e caccia" (football, cards and hunting).  For richer conversations you have to create a space.
There is a relationship between topics of conversations and places.  When you are already in harmony with a friend, you can sit on two stones and talk, but to build new human relationships you have to build and rebuild; especially in these days of loneliness and superficial dialogue.  It's necessary to give conversation a space: to create a concrete meeting place.  We are convinced that in beautiful Umbria, you should also come to realize the beauty of conversation: exchanging thoughts and emotion, if not, Umbria's beauty is incomplete and we're living in a postcard.
The third motivation is an act of love for agriculture:
To explain what we mean, we'll tell you where we started: the ground was abandoned in the 60's, when the farmers left for the city.  The act of love has been to regenerate the earth by combining ancient wisdom with sound agricultural practices. The process is called reruralization and it's invaluable; especially in this era, where the urban populations of the world surpass the rural.
PeR is 575 meters above sea level and it's located between Todi and Amelia in the municipality of Guardea.  The entire area is a long way from any other industrial or agricultural zones or factories.  Being a long way from industrially cultivated fields also guards against the danger of contamination from non-bio agriculture and GMO's.
The place is really special, because it is "normal", in that, it doesn't have any of the trappings of mass tourism.  Here the advantage is quality of life: low density population; contact with nature; you are a long way from major sources of pollution.  In this area there is community interest and consequently the flora and fauna in the adjoining 6,000 hectare wood is highly valued
Moreover PeR is well located for anyone who wants to explore Umbria.  You can lose yourself in the winding streets and after each turn discover a different: landscape, castle, village, fortress, palace, villa or archaeological site.  This is a city of art, theatre initiatives, jazz and cultural events, that attracts people from all over the world.